It is common knowledge that Namibia has the highest solar radiation levels in the world. Sun energy is a free energy source and will never disappear. Therefore NEC has been promoting solar energy since the early 1970s.
We cater for solar water heater systems used in domestic and / or commercial applications as well as solar PV systems to generate electricity for various applications. NEC not only sells renewable energy products, but also advises clients on system design matters as well as turn key installations and aftersales service. NEC Power & Pumps is a full EPC contractor. 
NEC has been associated with Solahart Australia since early 1980 and holds the Solahart Agency status in Namibia. For over 35 years NEC Power & Pumps has been actively promoting Solahart solar water heating systems in Namibia for domestic and commercial usage. NEC offers a variety of systems suitable and custom-made to suit many different applications.
The 35 track record of Solahart products in Namibia makes this product the only system that has proven itself to be reliable and robust to withstand the extreme harsh climate and water conditions throughout Namibia.
The Solahart Series J & K system is a SABS-approved domestic indirect thermosiphon solar system with 150, 180, and 300L storage tanks suitable for residential homes, lodges, tent camps, schools, hostels.
Main tech features of Solahart
To optimize performance Solahart Commercial Solar Water Heaters use the proven Drain Back Principle. Solahart Heat Store III is a centralised solar thermal solution that is designed to cater for big hot water demand applications such as:
Solahart has installed more than one million solar systems around the world and is backed by over 65 years as Australia's energy experts. When it comes to quality, efficiency, and long-term reliability, remember, it's not just solar, it's Solahart.
To get a quote from us is easy. Just fill in the form below and one of our managers will contact you shortly:
Digital Form to be completed
Namibia has the highest sun radiation levels in the world in comparison with the other countries. And it definitely should be used: the sun energy converted to electricity has many applications which has gained a huge acceptance over the recent years mainly due to constant increase in tariffs and availability of electricity.
NEC Power & Pumps are pioneers in these field of having introduced solar PV systems to the Telecom and Broadcasting Corporation in the early 1970.
The solar energy generated by the solar panels is converted to AC power by the Grid Tied Inverter and fed into the AC Grid. Because of the technical conception of these systems energy generated is consumed immediately. A possible surplus access to energy will be fed into the public grid against compensation.
Main advantages of Solar Grid Tied Systems
Island / Off Grid Systems
Solar Off Grid systems are used in areas where there is no utility power. In vast remote regions where there is no electrical grid supply, a Solar Photovoltaic Off-Grid System is the answer to electrical needs. Also known as Stand-Alone or Island Systems, they are totally independent of the Electrical Grid.
Applications are mainly for farms, lodges, remote villages, and transmission stations.
Lithium Ion Solar Batteries
A lithium-ion battery or Li-ion battery is a type of rechargeable battery, which can additionally be installed to store that energy produced during daytime hours and which is not used. This can be done whether you already have a Solar System or you intend to have one installed.
In most cases, lithium-ion batteries are the best option for a solar panel system, though other battery types can be more affordable. But one should consider their longevity and efficiency, making Li-ion batteries economically more appealing and calculated over the long term, they work out a lot less costly.
By coupling Li-ion batteries with solar a Solar PV System you are not only saving money, but you are becoming independent from your electricity provider, e.g. Nampower.
Adding to NEC Power & Pumps' range of high-quality products, the FreedomWon Li-ion batteries perfectly combine performance, safety and longevity in the field of energy storage systems.
The flexibly expandable high-performance Li-Ion storage is ideally suitable for all solar systems – from home to industry.
FreedomWon batteries have been proven to work well in combination with the SMA or VICTRON inverters.
• AXIstorage's modular design enables flexibility.
• Compact design with a Height x Width x Depth of: 536 x 675 x 475 mm
• Flexibly expandable from units available from 5kWh and can be expanded to the clients requirements with units of 160kWh and more
Main advantages of Store Solar Power
Maintenance and Guarantee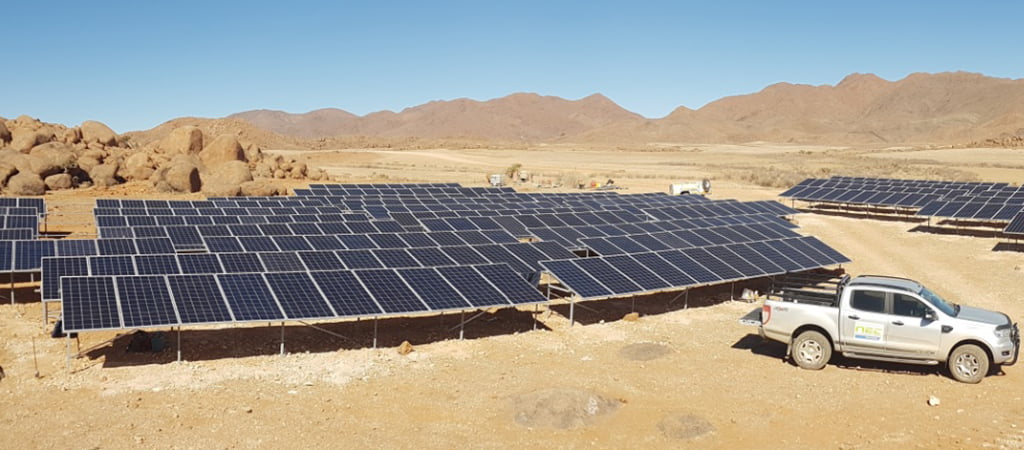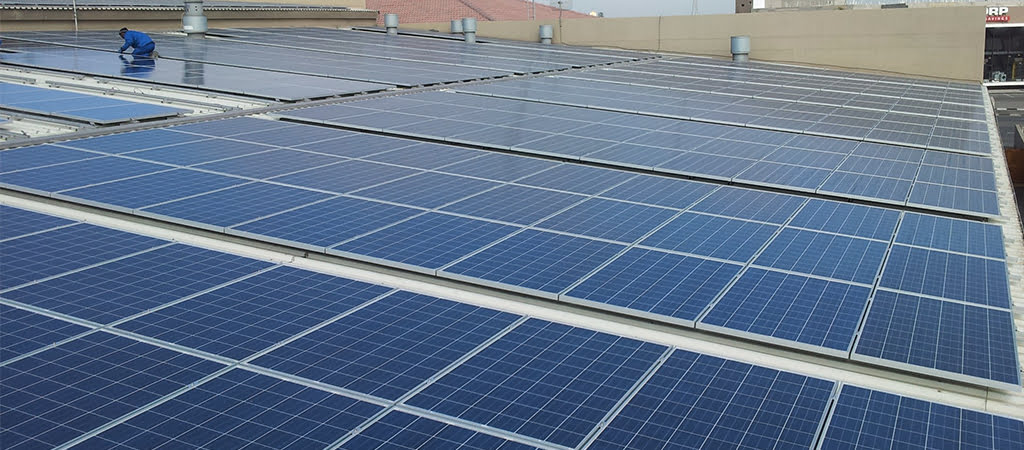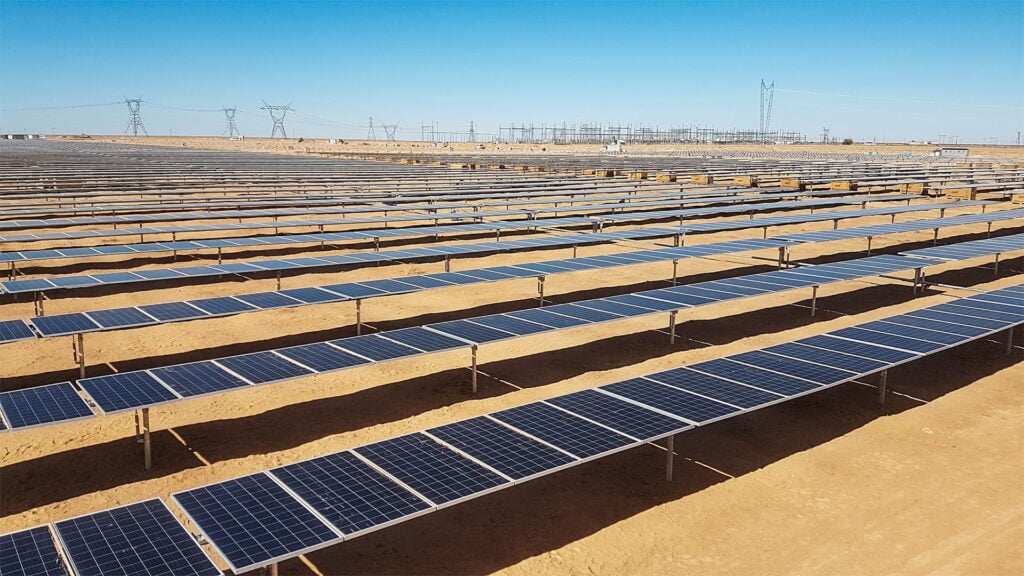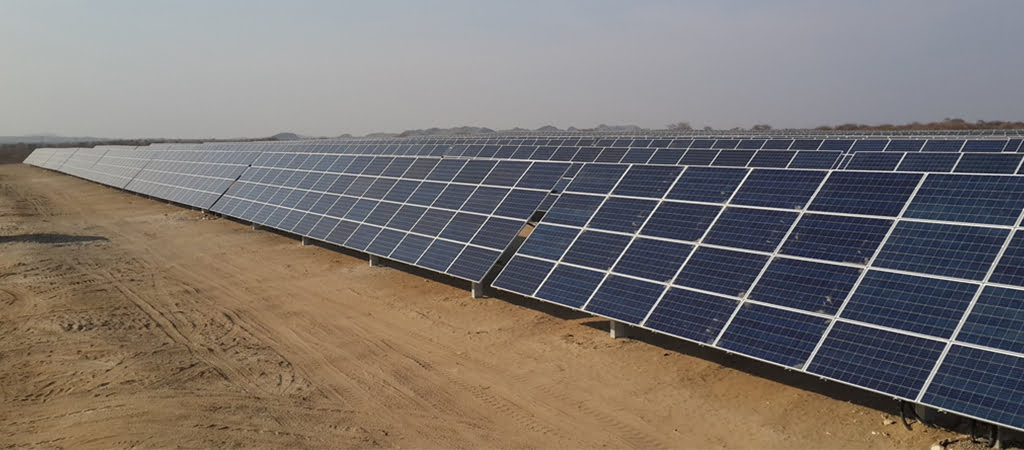 Analyze the sheet below and be sure to obtain all requested information for the sheet before proceeding to step 2.
Step 1: PV Solar System Sheet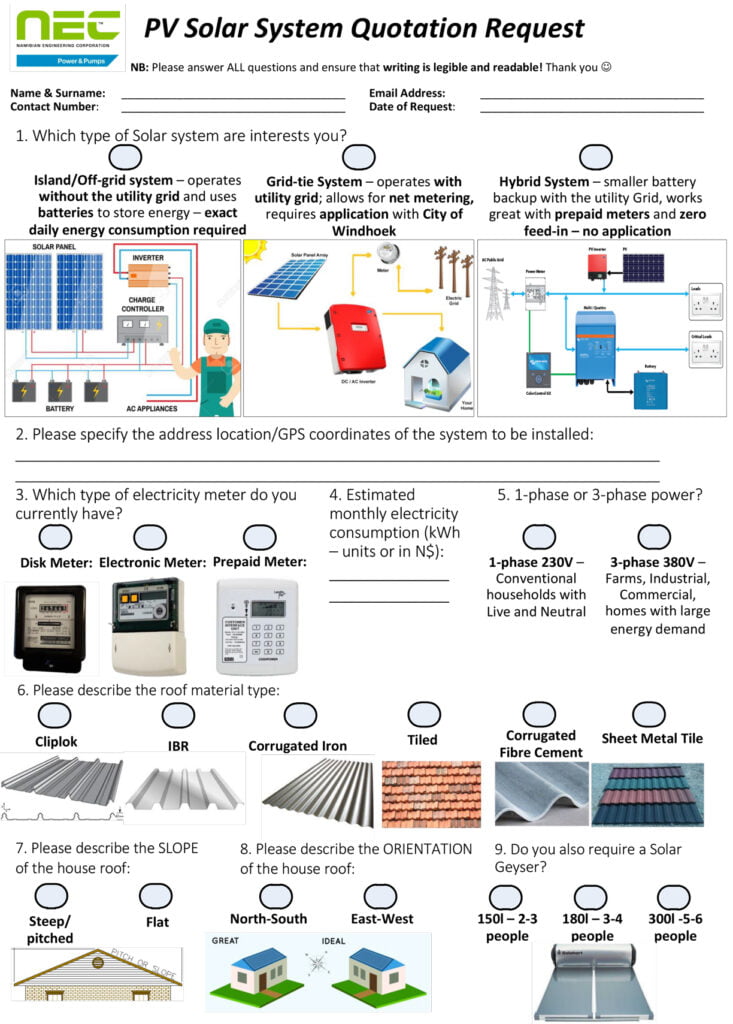 Step 2: Digital Form to be completed
Grundfos SQF
1.2-3 N 1400W

Solar Water Pump Solutions
The SQFlex pump range is a very unique pump developed and manufactured by Grundfos. It is a submersible borehole pump that is operated and powered either with solar energy, wind power or even a AC power source.
It is a very flexible pump to cater for endless applications.
Pump sizing depends on the water demand in a specific application and depends on daily water demand / delivery as well as total lifting capacity.
Applications of the SQFlex
Getting a quote from us is easy:
Please follow the instructions below to forward us a quotation request for pumps.
Step 1: Pump Design Sheet
Analyze the pump design sheet below and be sure to obtain all requested information for the sheet before proceeding to step 2.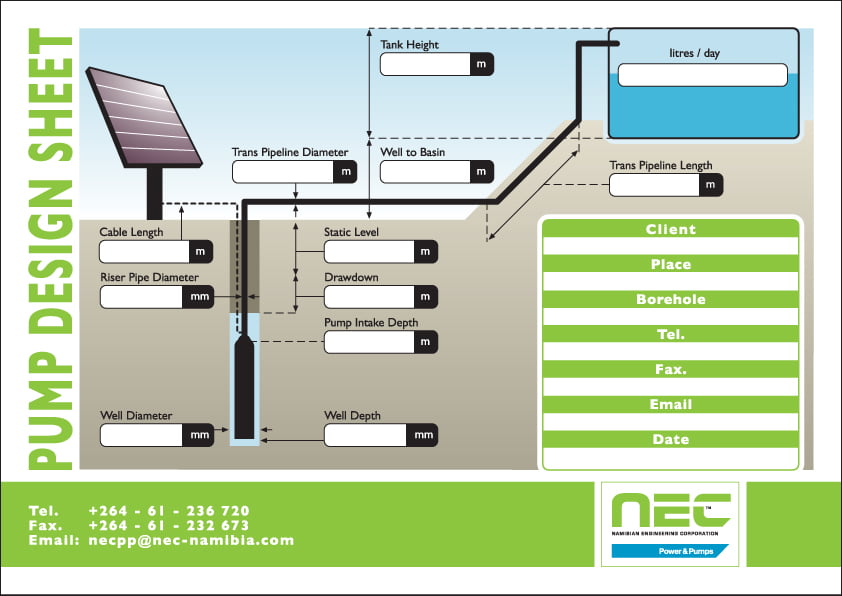 Step 2: Digital Form to be completed
With reference to the pump design sheet complete all information in the digital form below the sheet which consists of 2 sections.