Namibia has the highest sun radiation levels in the world in comparison with the other countries. And it definitely should be used: the sun energy converted to electricity has many applications which has gained a huge acceptance over the recent years mainly due to constant increase in tariffs and availability of electricity.
NEC Power & Pumps are pioneers in these field of having introduced solar PV systems to the Telecom and Broadcasting Corporation in the early 1970.
Solar Grid Tied Systems

The solar energy generated by the solar panels is converted to AC power by the Grid Tied Inverter and feed into the AC Grid. Because of the technical conception of these systems energy generated is consumed immediately. A possible access of energy will be feed into the public grid against a compensation.

Main advantages of these system – whether small or big:
No running cost
25 years performance output
6 – 7 year return of investment
independent on increase in tariffs.
Domestic households ranging from 2 – 10kWp Grid Tied: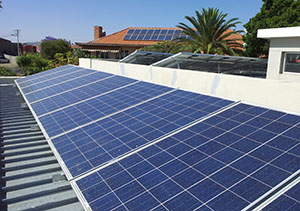 Industrial system ranging up to MWp systems – super markets / factories / shopping centers: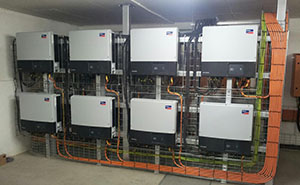 Island / Off Grid Systems
Solar Off Grid systems are used in areas where there is not utility power. In vast remote regions where there is no electrical grid supply, a Solar Photovoltaic Off-Grid System is the answer to electrical needs. Also known as Stand-Alone Systems, they are totally independent from the Electrical Grid.
Applications are farms, lodges, remote villages and transmission stations.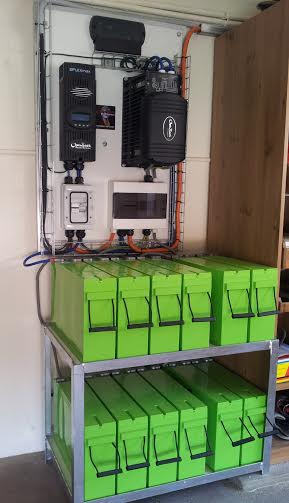 Lithium Ion Solar Batteries
NEC Power & Pumps is adding another product to our portfolio, namely Lithium Ion Solar Batteries, which are the ideal match for your Solar Energy Storage Needs.
If you have a Solar Energy System without energy storage you know that you can only use the power generated when the sun is shining. You cannot store and use it for other times. Much of your energy savings is not used, it is wasted. A lithium-ion battery or Li-ion battery is a type of rechargeable battery, which can additionally be installed to store that energy produced during daytime hours and which is not used. This can be done whether you already have a Solar System or you intend to have one installed.
In most cases, lithium ion batteries are the best option for a solar panel system, though other battery types can be more affordable. But one should consider their longevity and the efficiency, making Li-ion batteries economically more appealing and calculated over the long term, they work out a lot less costly.
By coupling Li-ion batteries with solar a Solar PV System you are not only saving money, but you are becoming independent from your electricity provider, e.g. Nampower.
Adding to NEC Power & Pumps' range of high quality products, the AXIstorage Li-ion batteries perfectly combine performance, safety and longevity in the field of energy storage systems.
The flexibly expandable high-performance Li-Ion storage is ideally suitable for all solar systems – from home to industry.
AXIstorage is manufactured in Germany and can be combined with the SMA or VICTRON inverters.
Why you should opt for AXIstorage Li-ion batteries:
Store Solar Power with system
• simple expansion of the plant size and battery capacity
• suitable for new and existing solar systems
• 20 – 30 years' service life through optimized cooling system, depending on use
• safety-tested technology in compliance with the latest standards
• integrated multi-level safety concept
Flexibly expandable from 1.440kWh Off-Grid and up to 480 kWh On-Grid
• AXIstorage's modular design enables flexibility.
• Compact design with a Height x Width x Depth of: 536 x 675 x 475 mm
• Units available are 8.5kWh (9S) and 10kWh (10s) of which 6.8kWh and 8.5 kWh are usable respectively
Maintenance and Guarantee
• low-maintenance technology
• integrated LED lights for status display
• 10 years time value replacement guarantee