NEC started as a family business under the name South West Engineering Company when it was founded in 1958 by Johann Albrecht Brückner. Initially, the company was an engineering sales and services operation for pumping and power generation. In later years, NEC started with renewable energies, mainly for the farming community and the mines.
Over the years the company branched out to steel fabrication and construction. Later, we developed armature rewinding with the customer base again being largely from the mining industry, although quite a few custom-made structures like towers, telescopes bridges (amongst others) have been built for multiple clients. The size and lifting capacity of the steel factory has given NEC a competitive edge in Namibia.
With the unfolding energy crisis, renewable energies have grown in importance over the years and now form a core component of NEC's business.
In 2007 the company achieved the strategic aim of broadening its capital base, by the Swedish ITTUR group taking up a majority stake in NEC.  In 2012 Ittur acquired the remainder of the shares from the Brückner family.  At the same time, the group disinvested from the armature rewinding activity.  
NEC Power & Pumps resort under Namibian Engineering Corporation (Pty) Ltd. as subsidiaries.   Namibian Engineering Corporation (Pty) Ltd holds a 55% shareholding in NEC Power & Pumps, with the remaining 45% being held by the Desert Stone Fund – an Investment trust largely owned by the GIPF (Government Institutions Pension Fund).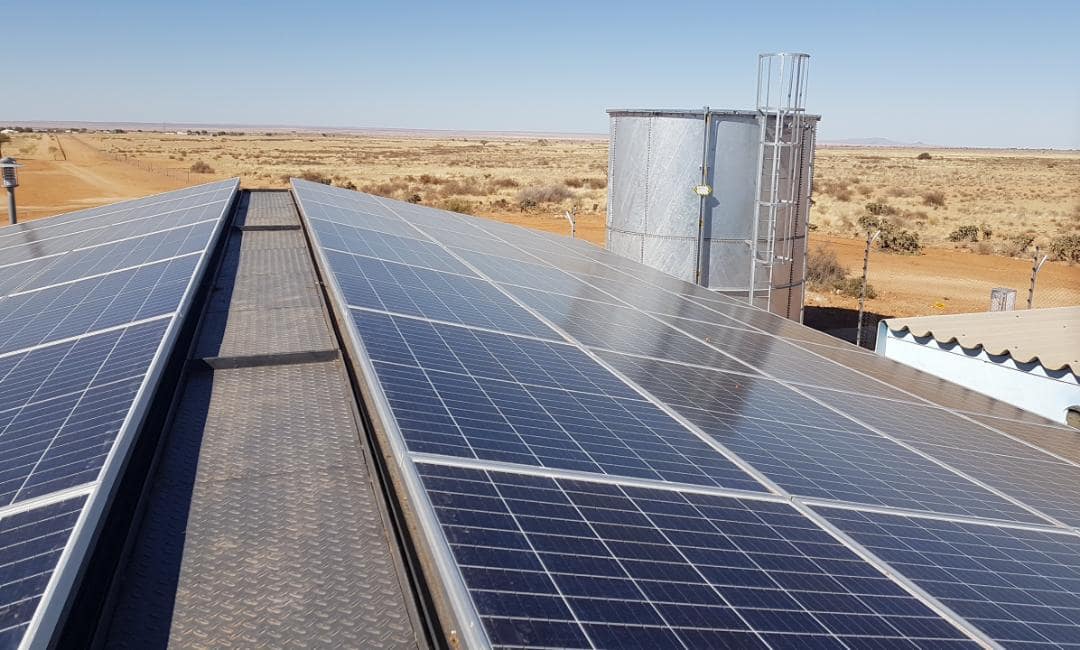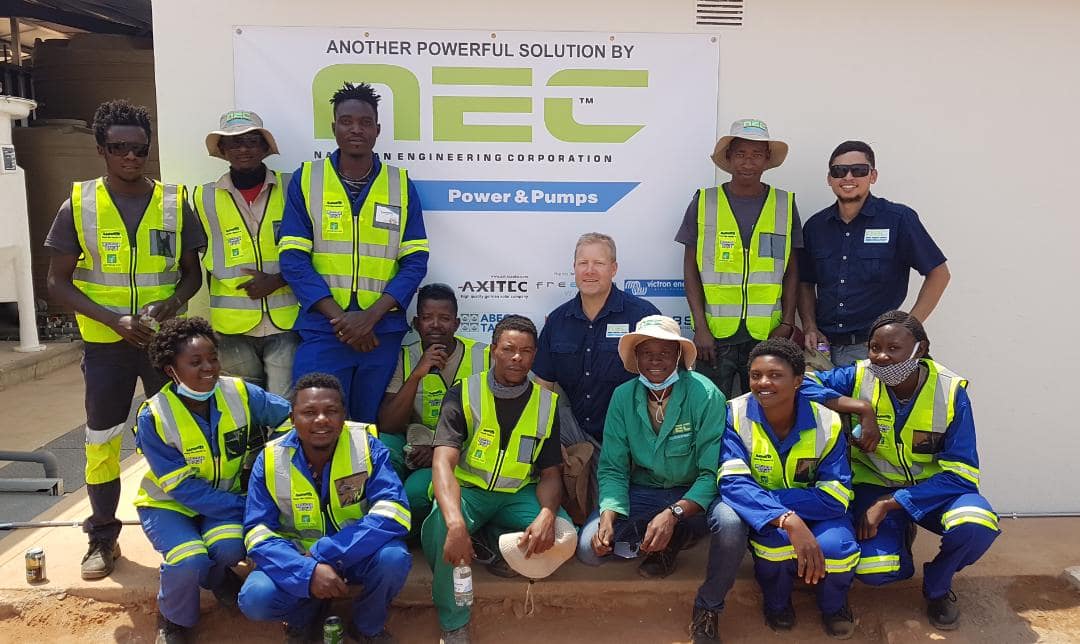 NEC also donated another solar geyser of 300 l to the Women Solidarity of Namibia. It's a big home based in the centre of Windhoek, they aim to accommodate expectant mothers with unwanted pregnancies, as well as young girls who are victims of domestic violence, rape and molestation. They target women who could resort to "baby-dumping" and take in babies who are not wanted by their mothers at a special "baby drop-off point".
NEC also gives quarterly contributions to three other organizations, The Young Adults, Prosperity Youth, Rainbow Kindergarden and Zolar's Kindergarten which is based in Otjiwarongo.
The CATS (Commercial Advanced Training Scheme) is one of the outstanding academic up-upliftment that is aimed at young people who want to acquire business administration skills and fundamental commercial skills. CATS is a German based educational dual system of two years; the theory part is done with the Polytechnic of Namibia, while the practical part is with the participating company. The companies pay the yearly tuition fee for the program and support the individuals throughout the course. NEC has been committed to taking in a trainee every year since 2007, whereby some of the graduates now are full-time employees and two more candidates are enrolled.
NEC Power & Pumps provided free panels, cables and stands for the Wild Horses Foundation in Aus, to set up their Water Pump & contributes to the protection of our planet's precious wildlife.
HOACHANAS
NEC installed a Micro MSB project as a community benefit, funded by a Donar Family Trust from Germany. By also making use of local staff, income was guaranteedfor 15 locals (project construction phase) and 2 workers (operational maintenance).
One of the most outstanding stepping stones NEC considered is making a remarkable change in the future life of six students from the Namibian Institute of Mining and Technology (NIMT) for internship.
A Grundfos Solar Pump was donated by NEC to the Kalkfeld Conservancy, which they sold for donations to improve their efforts to curb poaching in the conservancy and create opportunities for aspiring young farmers to secure a future on the farm.
NEC Power & Pumps plays a significant role in supporting social stability by employing a workforce of nearly 70 people. This excludes temporary staff hired for larger projects like Koekerboom or NPI, thereby fostering economic opportunities and livelihoods in Namibia.
Complete the contact form below and we'll get back to you as soon as possible.