NEC Power & Pumps caters to all pumping requirements in the agricultural, industrial, commercial, domestic, and mining sectors. Our services include consulting, design, installation, and commissioning of pumping applications and therefore we can offer turnkey solutions to our clients and customers. NEC Power & Pumps is an officially appointed Professional Partner Distributor of Grundfos in Namibia since the 1970s.
Grundfos 12/24v DC
Circulation Pump
Agricultural & domestic pumps solutions
NEC Power and Pumps serve as a one-stop-shop when buying pumps for agricultural and/or domestic uses with the wide range of products available from Grundfos.
Whether it is a borehole pump, solar-powered or electricity-driven, booster pumps for water transfer or irrigation applications, or a booster pump to increase pressure or pump wastewater, NEC will assist to select the best and most cost-effective solution for your requirements.
Commercial pumps solutions
NEC Power and Pumps is able to assist in a wide range of applications through the Grundfos range of products in Namibia.
These are a product for virtually every single application, be it on an international standard certified fire fighting booster set, a pump or booster set to transfer water or maintain pressure, or a submersible pump to drain lift sumps, runoff water, or sewage.
If you are in the market for highly reliable water solutions, Grundfos' expertise will meet your every expectation. As a full-line supplier, we cover the entire water cycle from supply and treatment to distribution and ensure that each step is provided with the exact required water quality. Regardless of whether you are looking to make drinking water out of seawater or to carefully handle ultrapure water.
With a complete Grundfos product range, capable of providing every conceivable water solution, we are the most complete player on the Namibian pumps market.
When thinking of waste water, the first thing that comes to mind is sewerage, but much more is included here. Typical applications are storm water, lift shaft sumps and underground seepage water.
Grundfos offers mining companies a true partnership, with an organisational setup and expertise to meet your every requirement for a reliable pump solution for surface, open pit and underground mining. Grundfos pumps are built to last – even under the toughest working conditions.
Grundfos can supply to all processes and stages at the mine except initial transport and slurry pumps.
Pumping solutions from Grundfos are available for all processes where liquids are to be pumped, even if they contain abrasives such as sand, clay particles, drill cuttings, and other potentially damaging objects, and also if the pH is very low, or if the media is aggressive, such as leachate solutions, or where the media is for cleaning and maintenance purposes.
Grundfos continuously strives to meet future challenges within the areas of global climate, environment and energy. Grundfos develops trend-setting and high-technology solutions that are at the same time environmentally sustainable for the benefit of the people.
Getting a quote from us is easy:
Please follow the instructions below to forward us a quotation request for pumps.
Step 1: Grundfos Pump Design Sheet
Analyze the pump design sheet below and be sure to obtain all requested information for the sheet before proceeding to step 2.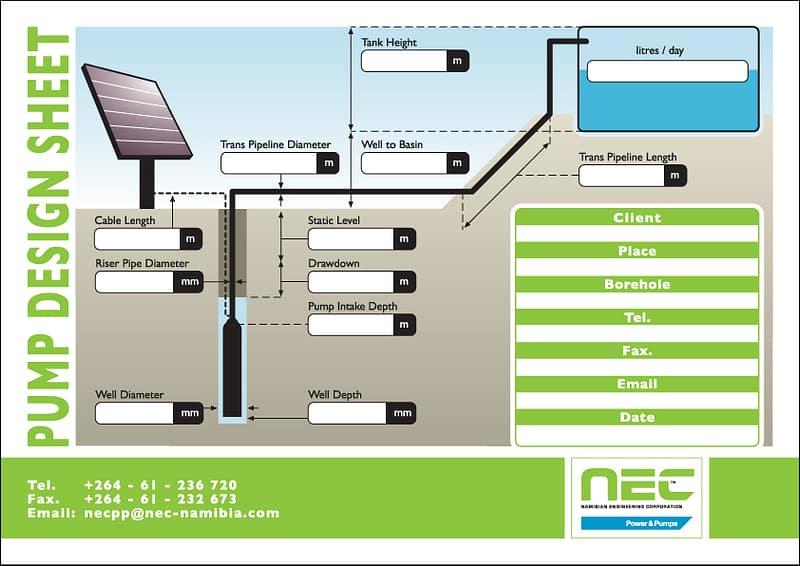 Step 2: Digital Form to be completed
With reference to the pump design sheet complete all information in the digital form below the sheet which consists of 2 sections.